Mannington Adura Luxury Vinyl
There are many, many types of beautiful synthetic flooring options available today, but there is only one Mannington Adura. With its trend-conscious styles and impressive performance capabilities, Mannington Adura offers up remarkable and distinctive planks and tiles that are built to last.
Mannington Adura is crafted with convenience and creativity in mind. It's very quick and simple to install and, with a wide variety of colors, textures, styles, and patterns available, you'll have no trouble customizing your intended design.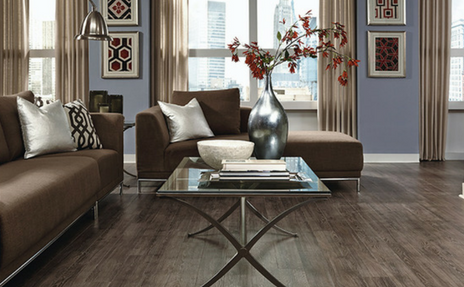 Exploring Mannington Adura
For many of us, especially parents and pet owners, accidents are bound to happen, so having flooring that's easy to clean and won't easily stain is a nonnegotiable. Mannington Adura takes a many-faceted approach to managing life's little upheavals. It's built in four distinctive layers, with the top layer featuring a Scratch Resist clear coating. With a waterproof HydroLoc core and internal padding, your new vinyl floor will not only shield your subfloor, but will cushion your family's feet.
Warm and comfortable Mannington Adura has proven itself a lot more welcoming than laminate or hardwood, and it can be installed directly over any existing subfloor. An impressive product warranty is included in each purchase, so you can look forward to many years of reliable enjoyment when choosing Mannington Adura.
At A & B Carpet One Floor & Home we're excited to offer up a full line of hardwearing Mannington Adura luxury vinyl flooring products. Visit us in Kitty Hawk and Buxton, NC and check out our product displays today.